---
i return to ARC after nearly ~3 years of silence. whoops ! my track record of tournaments is (understandably) not great, but considering the state of ARC at the moment. fuck it. we're back.
---
everyone enters 2 robots, one lightweight (60 pounds / 27.20 kilograms), and one middleweight (120 pounds / 54.5 kilograms). they will have to assign 30 points between 5 stat categories--those categories being
Speed
,
Traction
,
Torque
,
Weapon
, and
Armor
.
to keep it light and simple, this is a double elimination tournament. i have a right to say no if i believe a design is a loophole, but ofc--i will be fail. hopefully this doesn't happen, though.
there's a soft 400 word RP limit. keep it quick, simple, and digestible more or less. follow basic human decency, i.e. don't be a dick about things, don't complain and whine in the discussions thread. you know the deal. i hope this doesn't happen, but if someone DOES do it--i have a legal precedent to disqualify you. if you see traces of foul play, ill-willed shenanigans, and incivility--contact me. something something, sometimes "spin2win" is enough.
we will be following the Official ARC Ruleset, which you can read up
HERE.
the ROBOT4 repeated hits damage rule applies here--which is explained down below.
If Your Weapon equals your opponent's Armor, you will still be able to break through that armor in 12 hits. For every point of weapon you are below their armor, it will take 2 additional hits. For every point of weapon you are above their armor, it will take less hits to puncture an opponent's armor, as noted here:
damage: 0>1>2>3>4>5>6
hits: 12>10>8>6>4>2>1
These rules are guidelines for the approximate time it will take you to destroy a single location on your opponents: situations in-match may adjust the exact numbers, and if yall flame writers for not saying the exact numbers of hits and shit, don't expect to get away with it.

Flails will not benefit from repeated hits.
i'll be tentatively running a new rule as suggested by mystic and HFL on the discord--robots using "brazil wheels" (i.e. heavy wheels designed to withstand spinner blows, a la black dragon, sawblaze, and copperhead) will have to assign a spread of 29 points, due to one point of armor being dedicated to the robot's wheels in order to eliminate the extra damage, and to emulate the cost of said "brazil wheels" being fairly heavy.
to note, any robot that uses brazil wheels in any way, regardless if one set of wheels are standard wheels--and the other being brazil wheels, falls under this rule due to utilizing brazil wheels on the robot.
the current signup deadline is roughly
May 20th, 2023.
this may or may not change depending on the current amount of people signing up for the tournament, and how many writers pitch in. executive dysfunction may or may not get in the way of results being posted.
the tournament will start at about somewhere in
June 2023.
this is not static, and this date may or may not be extended.
---
The Arena Formerly Known As "Goofy's Gladiator Pit"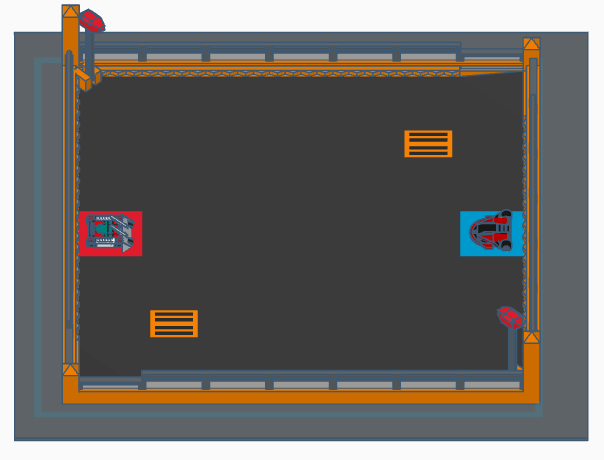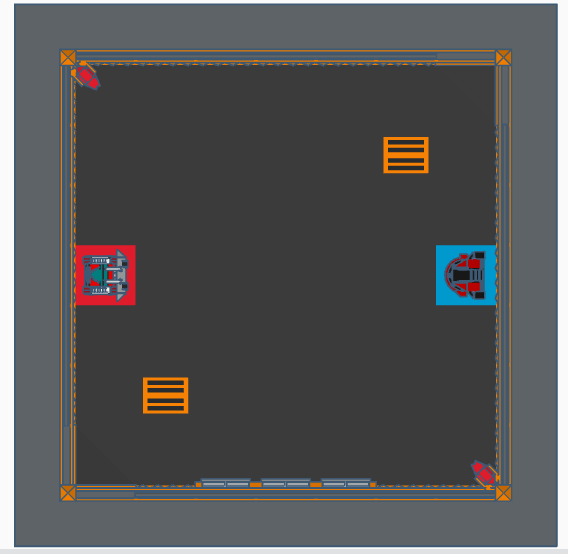 Neophyte Redglare (red square), and Lotus Flower (blue square) compare the middleweight sizes in the starting square, showing the scale of The Arena Formerly Known As "Goofy's Gladiator Pit" (or just The Arena) for short. with the power of imagination, imagine there's lexan paneling outlining the exterior of the arena, because me in 2019-2020 couldn't be arsed to CAD that up.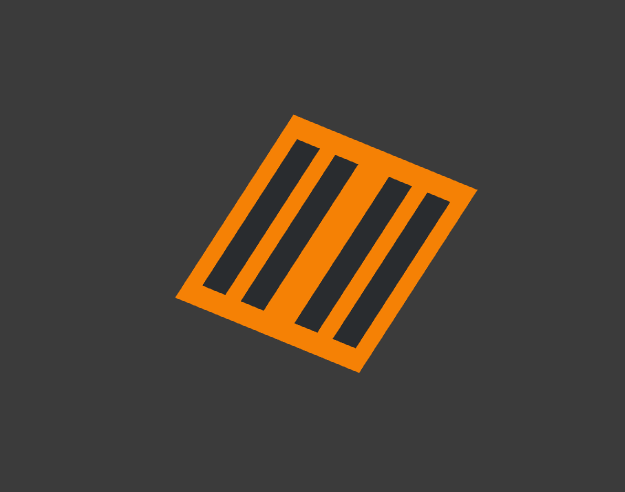 the hazards of the arena include--but are not limited to the time-honored killsaws, these are sawblades that rise up from the slots that do a gnarly 7 points of damage once they're up and out when a robot drives over them. these are active throughout the whole match, so keep your eyes peeled.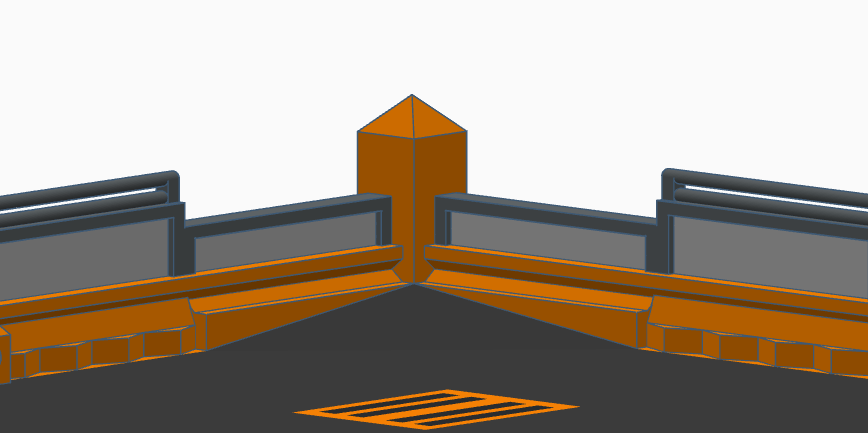 there are angled wedges in the corners of the arena serving as points to high center and/or pin your opponent. OOTA walls are also a thing here, the main walls surrounding most of the arena allow a 6-7 power or so flipper can get a decent flip out of bounds here. the lower OOTA walls that surround the wedges, however--allow a flipper with 3 weapon power to get a shot out of bounds.

this thing also exists too. this is the wall drum, throughout most of the match it will deal 5 points of weapon damage to any robot that comes into contact with it, and serves as a pinning point. however, when there's a minute left in the fight--the wall drum will increase in power, dealing 11 points of weapon damage to a robot that comes into contact with it. don't touch this goober, OK?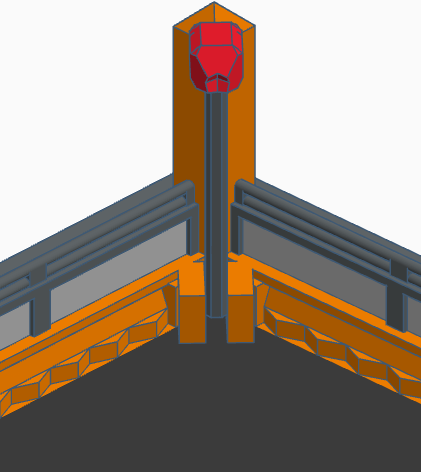 finally, there's the Big Time Hammers. they feature a specialized head that doubles for both blunt damage, and piercing damage to a robot. the Big Time Hammers deal 5 points of weapon damage to a robot when active, and have a 2 second cooldown between each blow.
---
THE WRITING TEAM AND ENTERED TEAMS
WRITERS
1. winternimbus
2.
3.
4.
5.
---
ENTERING TEAMS
[LIGHTWEIGHTS]
1. winternimbus - Team Foxtrot Uniform: Break Dash
2. Turtleback! - Team ShellShockers: THE GREATEST PLAN!
3. Botomatic1000 - Team Riptide: Spares Or Repairs
4. Hooray For Lexan - Team Instant Regret: Front Toward Enemy
5. YSMQTHLQYH - Team Design Flaw: Apeirogon II
6. British-Robotics - Team British Robotics: Voltage
7. Wolf51-50 - Alpha Robotics: TLV
8. Venice Queen - Interrobang Robotics: Afternoon Cereal
[MIDDLEWEIGHTS]
1. winternimbus - Team Foxtrot Uniform: Neophyte Redglare
2. Turtleback! - Team ShellShockers: W Is For WINNER!
3. Botomatic1000 - Team Riptide: Torschlusspanik
4. Hooray For Lexan - Team Instant Regret: Kamaitachi
5. YSMQTHLQYH - Team Design Flaw: God's Middle Finger
6. British-Robotics - Team British Robotics: Lethal Carriageway III
7. Wolf51-50 - Alpha Robotics: Diablo Victus
8. Venice Queen - Interrobang Robotics: 10,000-Year Earworm to Discourage Settlement Near Nuclear Waste Repositories (Don't Change Color, Kitty)
---