Bumping this thread because I wanna go through Shadow Zone's evolutionary path; I'm a bored SOB and I have nothing better to do. :/
So back on FRA, I was competing in tournaments like Mechanical Noise 2 (YOU STILL HAVE TO FINISH THAT MARTIJN!!!!!!!) and Fowler Fic War 3.1 and all that. I had an idea, a ridiculous one at that. I wanted a robot with the pushing power of Storm II, but with a secondary weapon that didn't suck. :P So I was looking on Battlebots.com when the site was still displaying bot pics, and I stumbled across Toro, one of my two favourite SHWs.
Thus, this came about:
Well, how did he do? Well FFW4 had him go out early, but FFW5 had him reach the heat final. There he lost against a fellow flipper, Nitro-Gene.
Now, I saw that Shadow Zone 1 here wasn't the best suited to fighting flippers. Now, do you think I actually did something about it? NO!
Shadow Zone Returns. More vulnerable to flippers than ever, yet with that big-ass convex scoop withstood quite a bit of damage from horizontal spinners, and drums (ala Paralyzation 2, who I beat). The rear flipper was thinned out and made more leverage, ala Matador. It did the same as Shadow Zone 1. Went 2-2. Achilles just kicked its ass. Yeah, big time.
It was about this time that either Dan S or Joey showed me a video of Hammerhead 3, a British box-wedge flipper where the top along with the front popped up. The difference from other box-wedge flippers was that the ENTIRE front and top panels popped up, AND he could run inverted. The thing I questioned is how well a spinner would be able to handle him.
Thus, Shadow Zone Forever, v1, was born.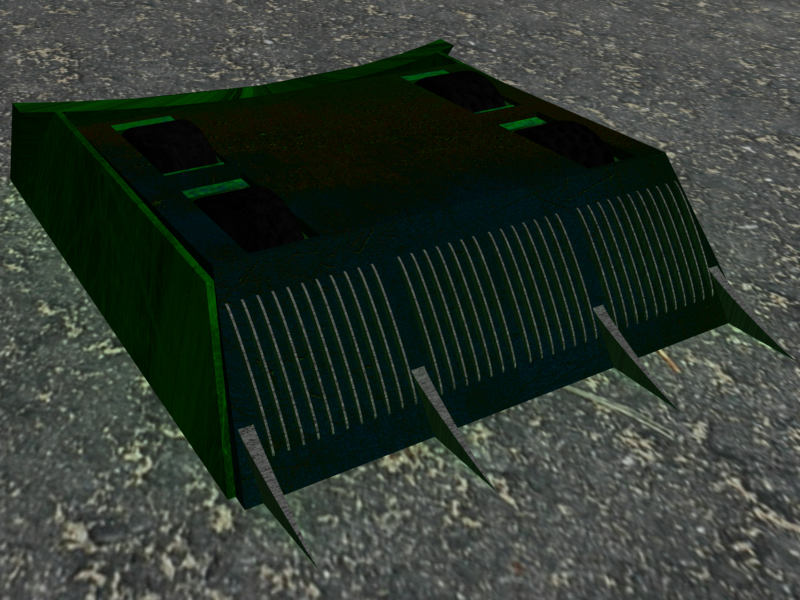 Speed: 9
Torque: 5
Armour: 7
Weapon: 1
This is the version that competed in ARC: Reckoning. Front SCOOP, with the Hammerhead 3-style flipper at the rear. I added spiky wedges to the flipper so I could throw more weight behind one point. The scoop was incredibly thick, so nothing was getting through that.
As you all know, SZF v1 did pretty damn well in Reckoning, lost 40-5 to Riot Control in the semis. But he did have some good success in Joey's Chevron Championship 2 on FRA. CC2 saw him as a good gauntlet and trial runner as he edged out Disco 5 (flipper with a v-disc) in the gauntlet, and manage to drag Dead Metal almost into the pit during tug-o-war (even when Joey magically gave Dead Metal bigger motors :P). As far as combat goes, SZF v1 managed to defeat a previous champion (M.O.R.D. 2) of another tournament (NSBFL 7), and then the almighty real robot Thor. CC2 hasn't been completed as of yet, so SZF v1 still has some action ahead of him. Provided Joey gets on it. :P
Back to ARC, I addressed maybe one or two flaws in SZF v1's design? He was a bit too tall, and the scoop had flat sides, so he could get stuck on them. :P Also what was in my way was that v1 was rendered in 3D Studio Max. Nothing a little export wouldn't fix. :P
So, v2!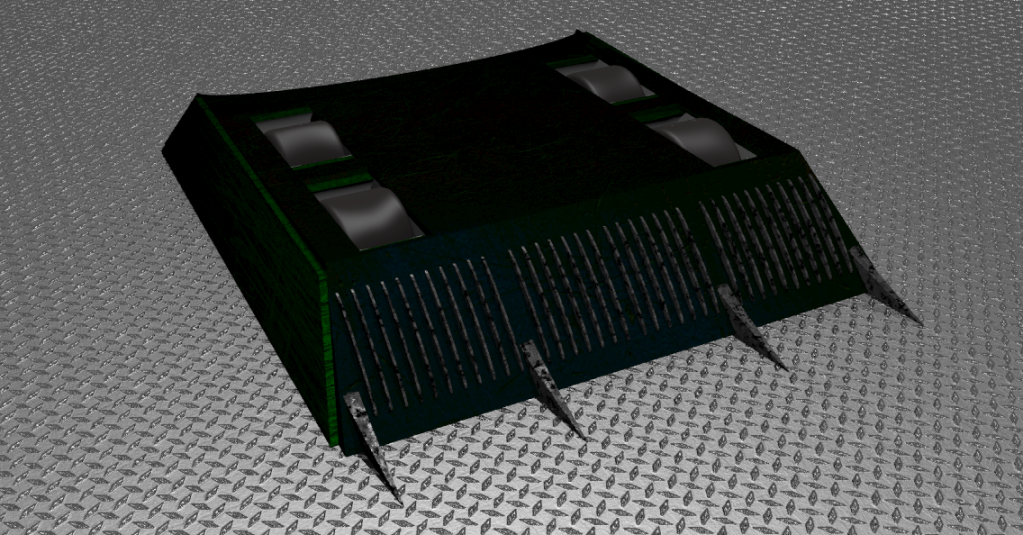 Speed: 10
Traction: 5
Armour: 6 (+1 scoop)
Weapon: 1
Yep. This is the guy that won Carnage HW. Although I still don't know how. :P Much lower, and the sides were undisputedly angled. :P However the move from torque to traction made him really uncontrollable. I had no idea how he was going to do and it was damn surprise he won. This was Shadow Zone Forever at his peak.
Of course, not all good things last...
ARGH. What the fuck was I thinking? Shadow Zone Forever v3 became a simple boring rammer for whatever fucking reason I had in my head. The Armageddon render is just a re-colour/re-texturing of this Aftermath one. He lost both his first fights against DeadStar and Malaria, and then me leaving Aftermath after the midway point didn't help him out. Armageddon saw SZF v3 get into the play-offs, but then lose his match against Pinpoint who finally managed to beat SZF after 3 tries, lol.
And then it got even worse, though most of you guys haven't seen this version. You see, I wanted to bring SZF back with a flipper again. I didn't want it to be the same as before, though. YEAH, KODY, WHY BRING BACK A WINNING FORMULA? :rolleyes:
Just... WHY? Why did I make this thing? Even v3 was miles above this crap. SZFm, or SZF v4, went back to the roots of having powerful drive with a flipper. The problem? EVERYTHING. The scoop was ineffective, the flippers was far too long, 6WD meant it wouldn't get the flipper into play much anyway... I could go on and on.
Anyway, that's why I've brought back v2 here, as a re-colour:
You can call him v5 if you want, but it's really just v2 returned. Anyway he's back, even though I said I've never bring him back several times :P , and ready to kick some ass. :cool: