I'm a fellow newcomer to enter the atmosphere of robotic combat. I may not know much about robotics but I used to love watching Robot Wars and Battlebots when I was younger :). I used to do my own little competitions with my hand drawn robots I used to do.
I found this website forum thanks to GF93 for mentioning about it and I thought to myself... "Time to make a name of my very own robots". I'm here for fun and enjoyment and so far I feel really welcomed being here too.
Feel free to talk to me too I won't bite, a fellow Brit would not bite. Anyhow, I am Team British Robotics, and as you can tell by the username I am British of course all the way from Bolton. I'm also twenty one years of age.
And these below the info are my first ever robots to participate in this world. I'm looking forward in battling and seeing how well my machines can perform, you never know they could become future champions one day *wink*. Feel free to have a look at them.
Cheers ;)
LW Turbine
Stats:
Speed: 8
Traction: 6
Torgue: 3
Weapon: 6
Armour: 7
Inspired off so many robots, Turbine is a nippy little robot which hoist 24V motors, Near the speed of Wedge of Doom, even though it's quick, the traction is it's biggest problem since it's a 2WD and it slips along the floor sometimes like it's running on ice.
This robot relies on it's powerful flipper. The flipper can sometimes make the robot hop a little from the front since all of the Co'2 gas has a high pressure, a huge amount of gas can be vented out which could be costly since so much energy is being thrown on the actual weapon.
The armor is not the strongest in the world but it can resist a few blows depending on how powerful the opponents weapon is.
It can self right as long it has enough gas left in it's weapon.
MW Sneak Beast
Speed: 7
Traction: 6
Torque: 3
Weapon: 7
Armor: 7
Sneak Beast is a resemblance to "Kronic the Wedgehog" (Series 4 Version Of Robot Wars), the robot is balanced, it's torque and traction is well controlled thanks to it's 4WD drive system.
The weapon combined which includes a low pressure flipper and a circular saw blade combines the weapons strength. The reason for this is so the robot doesn't loose it's control from an overpowered weaponry system.
It's amour is titanium which should do fine against other opposition.
HW Terror-Dactyl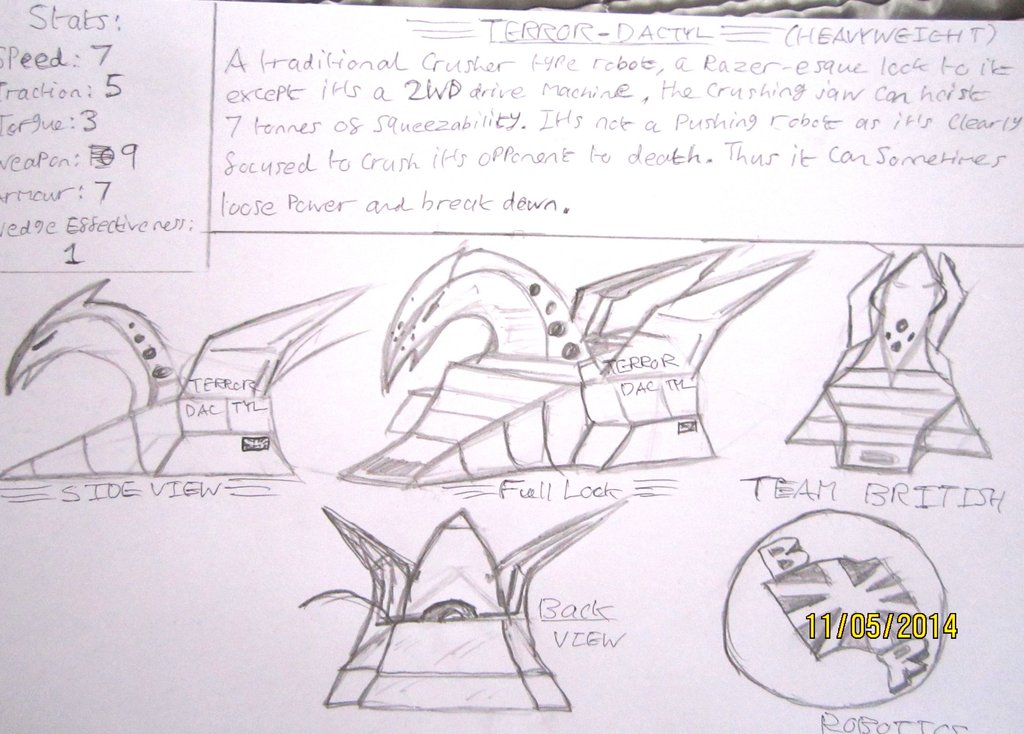 Speed: 7
Traction: 5
Torque: 2
Weapon: 10
Armor: 6
Terror-Dactyl has been my inspired dream machine when I used to watch Robot Wars, a nice Razer-esque resemblance to it but a nice design.
This robot doesn't push as much as the other entrants since it relies on it's powerful crushing weapon able to give 7 tons of squeeze.
At an average speed, it's a potent robot with a 2WD drive system, sometimes spins round depending how far the controls are pushed.
The armour is a wonderful coated titanium giving this beast a sweet shine against the light.
The robot has a self righting mechanism.
SHW Chemical Reaction
Speed: 5
Traction: 4
Torque: 3
Weapon: 10
Armor: 8
Wielding a powerful 500rpm vertical spinning disc, it's bound to cause a reaction. Even thought the robot may have slow pace. It can deliver a devastating blow with the weapon. The armor is stainless steel added with polycarbonate cylinder shells to protect it's wheels and electronics.
This robot has no self righting mechanism